EPISODE #53 – March 31, 2012
ALEXANDERIA
The Housewife Houdini
 Download standard podcast mp3 file – Episode 52
(right-click and "save as"…)
Alexanderia (Donna Purnell)
---
Alexanderia's Trademark "Underwater Leap of Faith" Escape
Alex is shackled hands and feet with 4 padlocks.
Then a 15 pound lead weight is attached to her waist.
Then a 5 foot chain shackles her hands to her feet.
20 feet of additional chain is wrapped around her arms twice
and each wrap is padlocked. The remaining chain is pulled around
her neck, through her legs, around her neck again and padlocked.
The shackles, chains, lead weight belt and 9 padlocks weigh over
55 lbs, more than twice what Harry Houdini did in his escapes.
---
The Underwater Cell
(Houdini's Milk Can – Outdone!)
Alex enters a specially-built small glass cube filled with water.
Her hands are shackled and padlocked.
A lid is then locked on top of the cube, trapping her underwater.
Unlike Houdini's famed Milk Can Escape, no curtain is lowered
so she can be seen at all times. For this attempt the tank,
because of the venue, was filled with bone-chilling 52-degree water.
---
Ungimmicked Strait Jacket Escape
---
Chain Escape … With Plastic-Wrap
---
BRILL PLANS
PSEUDO-HYPNOTIC ACT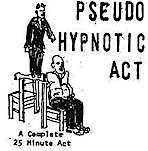 A sideshow-style hypno act
with 4 detailed routines, crowd-pleasers like
"The Rigid Arm," "Standing 3 Men
on the Subject's Chest,"
"Stopping the Pulse" and
"Breaking a Stone on the Chest".
Select  your favorite individual effects
or perform the entire set of effects
as a complete 25-minute act,
the manuscript is a detailed guide to presentation.
Available in pdf format or paper copy.
For a real piece of carnival history
or a working act that still plays well today
---
FAIR FOOD RECIPE
Easy Fresh Pickles
If this isn't a fair food, it ought to be.
Here's something that ought to go over big in hot weather.
Make a solution of about 50-50 white vinegar and water,
Bring it to a boil, dissolve sugar in it until you like the balance,
remove it from the heat and throw in whatever you want pickled,
put on a lid, and come back later when it's cool enough to refrigerate.
That's all!
The vegetable will pick up all the flavor and almost no calories,
and if you keep it in a plastic tub in the fridge moistened with
the pickling liquid, your pickle should last for several weeks.
You can just make it in a half hour and eat it for weeks.
I love bite-size chunks of peeled raw beets.
As a sandwich garnish, I use chopped pickled raw onion,
or carrot, or if I'm feeling hungry for Vietnamese Banh Mi sandwiches
I use daikon radish peeled and sliced in the food processor,
or a mixture of carrot and daikon and onion.
Add more sugar and some drained canned green beans, wax beans,
kidney beans and chick peas, and you've got three bean salad.
This is a bit of a stretch from the usual carnival food, but it really makes me happy!
---
How to Recognize a Scam free e-book
---
How to Save E-Books to Your Kindle or Other E-Reader
Amazon Free Contemporary E-Books
---
My NEW CD:
"BALLY – SOUNDS OF THE SIDESHOW"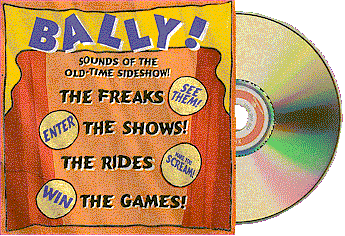 Hear samples & order directly from me HERE
Hear samples & order from CDBaby HERE (2 free tracks available)
---
Thanks also to The Freesound Project and The Internet Archive
—————
---
---
This podcast is licensed under a Creative Commons 3.0 Attribution-Noncommercial-No Derivatives license.
That means you can download it, copy it, keep it, give it away, but don't change it, make it a part of something else, or sell it.