EPISODE #023 – January 11, 2009
My Guest:
Don Driver
Download standard podcast mp3 file – Episode 023
---
News of the Week:
"Carny Scams" pdf – Page no longer available
---
Website of the Week:
In demanding times meet the demand and be way less helpless…
The Whole Earth Catalog online
---
Don Driver's Website:
Buy Don's three DVDs: Pitching, Jam Auction, Building a Tip
Don Driver lecture at SAM, Manhattan Feb 17 2009 – Page deleted
---
OUR FABULOUS TREASURES:
Wear the "One Ball Game" on your chest!
Three metal milk bottles, three baseballs, and of course a stack of cash,
framed by the words "Carny Power", all durably printed on a quality shirt!
This is our exclusive product, and my original art makes
a memorable design you'll be proud to wear!
Made to order, all sizes available, buy at Zazzle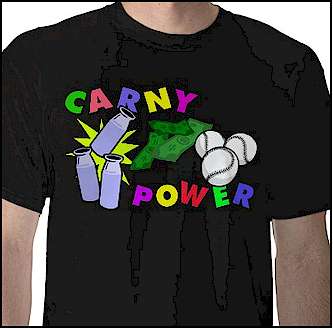 NEW Carny One Ball Game T-Shirt – only $24
---
"BALLY, SOUNDS OF THE SIDESHOW" CD
Click here to see details on our web sales page
Or download album or individual tracks from Amazon
---
---
This podcast is licensed under a Creative Commons 3.0 Attribution-Noncommercial-No Derivatives license.
That means you can download it, copy it, keep it, give it away, but don't change it, make it a part of something else, or sell it.