EPISODE #022 – November 4, 2008
My Guest:
James White
Download standard podcast mp3 file – Episode 022

---
FABULOUS TREASURES, RARE MEMORABILIA,
OTHERWISE KNOWN AS "NEAT NEW STUFF"
Two new items you'll LOVE!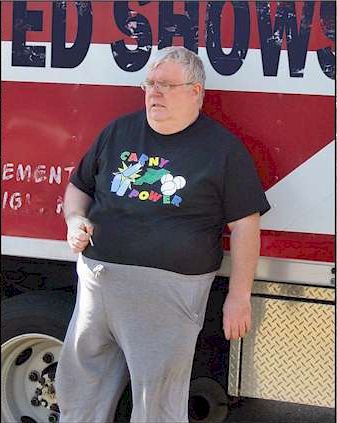 See at Zazzle
Here's your chance to wear your favorite carnival game on your chest!
Three metal milk bottles, three baseballs, and of course a stack of cash,
framed by the words "Carny Power",
all durably printed on a quality shirt (shirt color is your choice)!
This is our exclusive product, and my original art makes a memorable design
you'll be proud to wear! The price is right, too!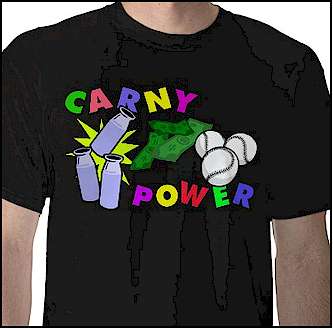 See at Zazzle
NEW Carny Milk-Bottle Game T-Shirt

---
Brill's Bible of Building Plans
See at GOODMAGIC.COM
NOW AVAILABLE SEPARATELY AS A PDF
The book is also a part of my CDRom e-book "On the Midway"
but many have asked for a stand-alone pdf
276 pages of fascination!
The famed Brill's Bible was a huge catalog in a tiny package
(as small as a pocket Bible) offered to carnys only,
selling plans for rides, games, sideshow acts and much more!
A 47-meg downloadable pdf from a 1970 original.
---
WEBSITE OF THE WEEK
Archive of American Television Main Site
Archive of American Television on Youtube
You'll have to narrow down your choices,
either by searching from the search bar
or using one of the sort links on the page linked here
---
"BALLY, SOUNDS OF THE SIDESHOW" CD
Click here to see details on our web sales page
Or download album or single tracks from Amazon
---
---
This podcast is licensed under a Creative Commons 3.0 Attribution-Noncommercial-No Derivatives license.
That means you can download it, copy it, keep it, give it away, but don't change it, make it a part of something else, or sell it.